By: 
 for ISKCON News on Sept. 12, 2020
The 2020 worldwide Bhadra Campaign saw devotees triple the Srimad-Bhagavatam set distribution of previous years, obliterating their initial goal of 10,000 sets. All told, over 22 countries and 150 cities participated to distribute more than 23,000 sets despite the challenges of COVID-19.
The Bhadra Campaign was launched in 2017, inspired by the Srimad-Bhagavatam verse 12.13.13, which states, "If on the full moon day of the month of Bhadra one places Srimad-Bhagavatam on a golden throne and gives it as a gift, he will attain the supreme transcendental destination."
The campaign is also driven by Srila Prabhupada, who encouraged devotees in a 1977 letter, "I want that every respectable person has a full set of Bhagavatam and Caitanya Caritamrta in his home."
This year's campaign began with Vaisesika Das, the Global Duty Officer for book distribution, presenting it at February's GBC Meetings in Mayapur before the pandemic.
Vaisesika requested GBC support for a global team, in which devotees around the world would work together towards a common goal culminating on Bhadra Purnima, September 2nd. He also asked each GBC member to assign representatives for the Bhadra campaign in their geographical area and work with the Bhadra team to coordinate the effort.
The goal – 10,000 Srimad-Bhagavatam sets distributed around the world – already seemed like a stretch, as the global team hadn't been able to surpass 7,000 for the previous two years. But when the COVID-19 pandemic struck, many felt like it was an impossibility and would need to be postponed, setting Bhadra off to a slow start.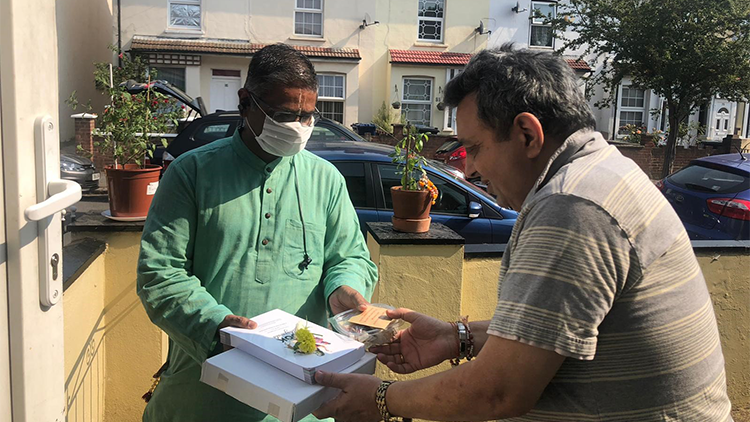 Europe
In some ISKCON communities such as Vaisesika's home temple of ISKCON Silicon Valley, California, and in the UK, however, devotees took the crisis as an opportunity to do even bigger than before. With the motto "distribute from home – all you need is a phone," they organized Zoom calling parties and contactless delivery.
Meanwhile, with only three weeks left to go, a series of Zoom calls with ISKCON luminaries inspired other teams around the world to do the same. The first featured GBC Gopal Krishna Goswami and BBT Trustee Bhima Das, speaking to 100 sankirtan leaders gathering virtually. A call with Radhanath Swami saw an incredible 800 devotees gathering on Zoom, and thousands more watching on Facebook and Youtube. Bhakti Raghava Swami, Indradyumna Swami, Jayapataka Swami and Devamrita Swami also took to Zoom to speak about the importance of the Srimad-Bhagavatam and rally the troops.
Soon, the energy caught on globally, and the results followed. "Many centers around the world set challenging goals and were able to smash them!" says Shyama-Mohini Dasi, co-sankirtan leader at ISKCON Toronto, Canada, who helped coordinate the worldwide effort. "Some even doubled and tripled their numbers! Baltimore, for example, had a goal of 108 but did 200 sets. ISV had a goal of 500, and more than tripled it."
India led the scorecard with an amazing 17,444 sets distributed, followed by North America with 4,218. Hundreds of sets were also distributed in Africa, Oceania and Europe.
While door to door distribution or setting up tables could not happen in most parts of the world due to COVID-19, devotees got together via calling parties and reached out to their personal contacts, as well as contacts of ISKCON centers. Others also reached out to favourable people via social media. Anyone who got sets was encouraged to refer their friends and family. Books were shipped out around the clock from various BBT divisions around the world, or contactlessly delivered to people's porches.
A wide range of devotees drove the campaign – in North America, efforts were propelled by congregation members from over fifty communities, as well as the brahmachari members of the Yuga Dharma Ashram based in Atlanta. In the UK, Australia, New Zealand and India, teams of full-time sankirtan devotees or congregation members worked together.
At ISKCON Silicon Valley, Sukhesvari Dasi, who runs the Bhagavata Seva online program for teaching children the Srimad-Bhagavatam, put donations she received towards the Bhadra campaign, raising thousands of dollars to sponsor Srimad-Bhagavatam sets for distribution.
"We even had two-year olds distributing sets by retelling stories and slokas from the Bhagavatam in videos that were shared online, swaying the hearts of many," says Shyama-Mohini.
India
The campaign culminated on Bhadra Purnima on September 2nd with a "Bhadra Dana Yajna" during which the names of those who had participated in or donated towards the Bhadra campaign were offered to the fire.
The yajna took place with COVID-safe precautions in Ahobilam in South India, the site of Lord Nrsimhadeva's pastimes, and was livestreamed with a screen split into three. The first segement showed the priests performing the fire sacrifice. The second scrolled the thousands of names of participants and donors. And the third showed senior devotees such as Giriraja Swami speaking from their homes about the importance of the Srimad-Bhagavatam and its distribution; as well as chanting by famous kirtaniyas like Gaura Dasi and Kishori Jani.
Overall, the Bhadra Campaign was beneficial for everyone. For many recipients, receiving the Srimad-Bhagavatam was a life-change experience, according to Vaisesika.
"Moving that many spiritual books into one's house has a marked effect on the lifestyle," he explains. "Visvanath Chakravarti Thakura says that the Bhagavatam is Goloka [the spiritual world] itself. And the Svetasvatara Upanisad says, there's no difference between Krishna and the Bhagavatam. So the spiritual influence is noticeable. We find that when people commit to it, and take the set of Bhagavatams, they become joyful."
For example in St Augustine, Florida two brothers received a Bhagavatam set and began chanting Hare Krishna, reading, speaking to senior devotees, and became vegetarian. They announced that their parents were also not eating meat anymore, and that their mom was excited by the new shift. They even donated one Srimad-Bhagavatam canto and transported sets for distribution themselves. Many other such stories abounded during the Bhadra campaign.
Meanwhile, devotees felt that they were witnessing the miracle of Lord Chaitanya's mercy. Despite posing major challenges, the pandemic had spurred them on to think outside of the box, and to take full advantage of the Internet and other electronic means of distribution, with wildly successful results.
In addition, the pandemic has made virtual systems such as Zoom conferences, Facebook live videos and online courses more a part of our lives than ever, helping book distributors to reach their long sought-after goal of better follow-up with people who have received books.
Popular follow-up programs include Bhakti Community Online (https://bhakti.community/), where people can access courses and podcasts that help them learn more about the timeless texts of Bhakti Yoga and how to implement devotional practices into their daily life.
By Krishna's arrangement, Shravanam Week (September 3rd to 9th), run by ISKCON Education Ministry Executive Director Tapana Misra Das, started the day after Bhadra Purnima, promoting resources such as online reading groups and sangas, which will help those who have received Prabhupada's books to better imbibe them.
"We see Bhadra Purnima as an opportunity to emphasize reading and studying the books, as well as distributing them," Vaisesika says.